Do American citizens have a right to know what government officials are doing, and do they also have a right to access government documents?
This is a highly important question especially for journalists, which are given the guaranteed right of Freedom Of Speech. under the first amendment (which i'll talk about in an upcoming article) but who often find it hard to gain access to information within the government. Since there is no final and accurate record of debate at the Constitutional Convention in 1787 exists, SO it is not clear if the framers of the U.S Constitution to create a government where all official business was conducted in public or not.

The Constitution itself does not mention "a right to know," and the Constitutional Convention was conducted in secret. Plus, the Senate also met in private for its first five years of existence. The only mandated disclosures by the Constitution require that a journal of congressional proceedings. which includes the official actions, be kept, as well as the  the annual federal budget being published.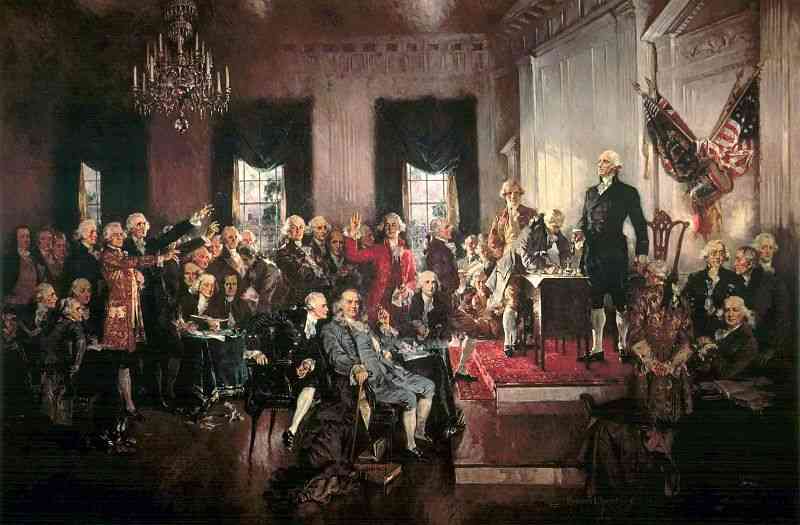 Beginning in the 1950 and so on, media organizations as well as public interest groups began to lobby Congress to pass open records and open- meeting laws. which has resulted, Congress began to consider the issue and attempted to set out guidelines in several laws passed beginning in the late 1960s.  
In 1966
Congress passed the Freedom of Information Act (FOIA), which was designed to open up documents within the federal government for inspection by members of the public. Not surprisingly, journalists have made extensive use of this law. Prior to 1966, reporters who wanted certain types of government information, or access to documents, were left to cultivate sources around Washington who might be willing to leak the information. After the the Freedom of Information Act (FOIA) was passed as an attempt to make federal records available to any person, reporters can now request certain types of information under the guidelines set out by Congress. Each year, more than 600,000 the Freedom of Information Act (FOIA) requests are made to the government.

The Freedom of Information Act (FOIA) applies to federal agencies to make all records available for inspection and copying for anyone that may request them. An agency must respond to a written request for a record within 10 working days. If the request is delayed, appeals to the head of the agency must be responded to within 20 working days.

Extensions are sometimes granted, due to the large volume and backlog of requests. If time limits are not met, or the person requesting the documents is denied, they can appeal in a federal district court, and the process must be expedited. If the plaintiff wins, the government must pay all the legal costs associated with the appeal. Business firms have become major users of the Freedom of Information Act, and as a result, some courts have refused to award costs in an appeal.
Agencies covered by the act include departments within the executive branch, or independent agencies such as the Central Intelligence Agency (CIA) or the National Aeronautics and Space Administration (NASA). FOIA requests cannot be used for documents in the possession of the president and his immediate advisers, Congress, its committees and agencies under its direct control (such as the General Accounting Office and the Library of Congress), or the judicial branch. Nine FOIA exemptions exist to maintain some confidentiality of documents.
The exemptions include:
National security (usually the executive branch decides what remains classified); agency management records (issues that are of little concern to the public, like parking records or sick leave requests); materials already kept secret by other laws (such as tax returns or patent applications); trade secrets or commercially viable items (for example, documents related to licensing of television or radio stations, drug manufacturers, or businesses seeking government contracts that have to provide detailed information to federal agencies); inter- and intra-agency memos (those used in the deliberative policy making process, and the exemption usually shields policy drafts, staff proposals, studies, and investigative reports); personnel, medical, and similar files (so as not to invade the privacy of federal employees on personal matters); material  about ongoing civil and criminal investigations; reports by banks and financial institutions; and maps of oil and gas wells.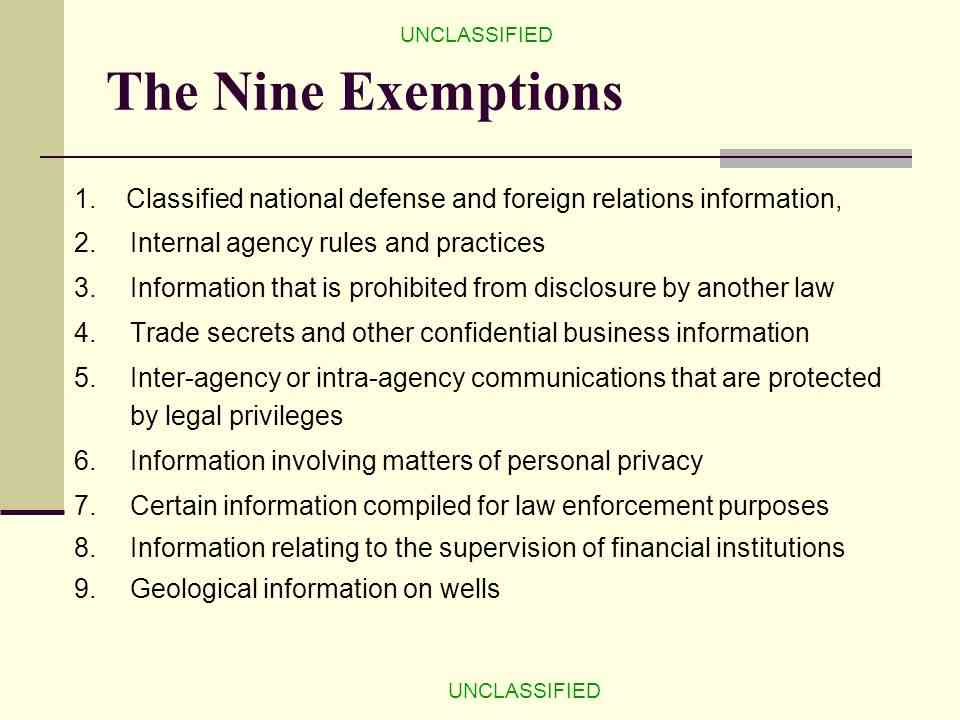 1978
In 1978, Congress also passed the Presidential Records Act (PRA), which governs the official records of presidents and vice presidents created or received after January 20, 1981. President Jimmy Carter signed this bill into law, yet it was his immediate successor, Ronald Reagan, who would first be governed by it. Basically, the PRA changed the legal ownership of presidential official records from private to public, and established new regulations under which presidents must manage their records. Specifically, the PRA defines and states public ownership of the records, and requires that an incumbent president and his staff take care to manage and preserve the papers of the administration.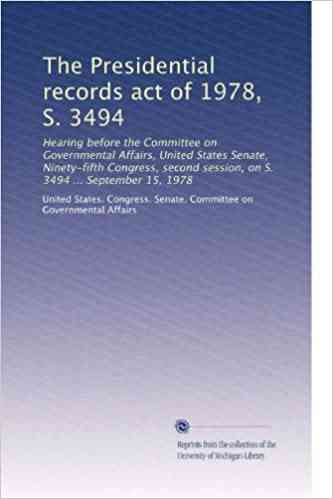 The PRA also established a process for restriction and public access to certain records that may be classified or considered worthy of restriction due to national security concerns. However, journalists, researchers, or other members of the public can gain access to presidential records through a FOIA request beginning five years after the end of the administration (with the president retaining certain restrictions to public access for up to 12 years). The PRA also requires that vice presidential records are to be treated in the same way as presidential record.
In 2001,
President George W. Bush signed Executive Order 13233,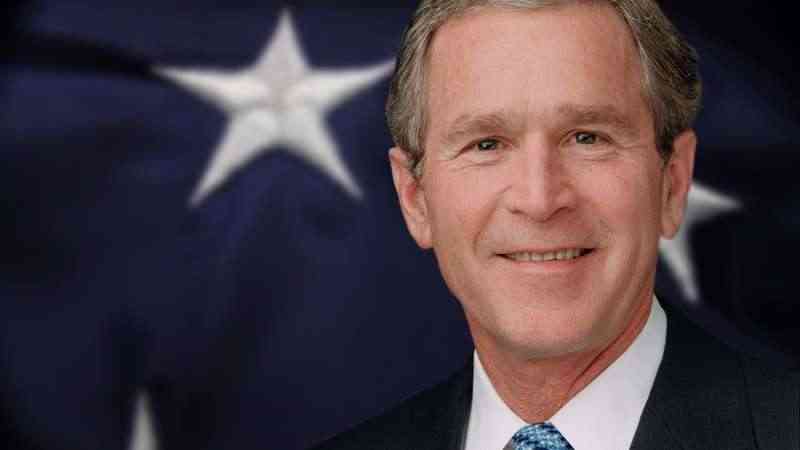 which provided more secrecy for presidential records and allowed an incumbent president to withhold a former president's papers even if the former president wanted to make them public. Various scholarly organizations across the country protested the move, which went into effect just as new documents were about to be released at the Ronald Reagan Presidential Library.
Similar to the open- document laws, Congress also attempted to mandate that government meetings and other functions should be held publicly. As a result, Congress passed a federal open- meetings law in 1976 requiring some 50 federal agencies to meet in public. Known as the "Government in Sunshine Act," the purpose of the law was to provide information to the public on the decision making process within government.
An example of one of the agencies governed by this act is the Federal Communications Commission, which has to notify the public prior to a meeting where decisions will be made. Basically, these agencies are required to conduct all of their business in public, a notice of public meetings must be given at least one week in advance, and agencies must keep detailed records of any business done in a closed meeting under exemptions in the laws that exist.
Several sunshine laws also exist at the state level; virtually every state has passed similar laws to those at the federal level. For example, in California, the Brown Act was adopted in the 1970s to govern how legislatures and other governing boards (such as city councils, county governing boards, or school boards) would meet and hold meetings.
Open meeting laws require at least a 48- hour notice of the agenda, and limit executive sessions (those closed to the public where only board members and other staff can be present) to matters concerning collective bargaining, pending legal actions, the purchase of land or buildings, and some personnel matters. While many news organizations and even individuals have benefited from these types of sunshine laws that attempt to make government more open and responsive to its citizens, the government agencies themselves have not always been overly cooperative in following the guidelines.
However, the Freedom of Information Act and other similar laws aid journalists in their role as watchdogs against government abuse and corruption, and many investigative stories have alerted citizens to important issues such as environmental dangers from nuclear weapons plants or serious safety defects in the gas tank on the popular Ford Pinto during the 1970s. The increased use of computers within the federal government
throughout the 1980s also created new questions about the documents governed under FOIA.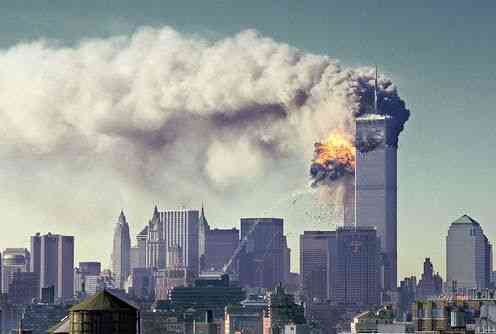 Congress adopted an amendment to the original legislation that included all electronic documents, including e-mail messages, to fall under the same standards as paper documents. And in the days and months following the terrorist attacks on 9/11, the federal government began to pursue tighter control over certain types of information, such as details about the infrastructure of highways, bridges, telecommunications, banking, and energy sources, fearful that any information related to these topics would be useful to terrorists planning another attack within the United States.
Those seeking greater access to government information remain at odds with a government that is often reluctant to follow the rules originally set out by Congress more than four decades ago with the FOIA act.