The Ottoman Empire was ruled by absolute monarchy until 1876. In this period, The Sultan maintained an absolute sovereignty over the people. With the Tanzimat period, although the thought of the republic started to be mentioned, the Ottoman intellectuals found the establishment of the constitutional monarchy enough; no further progress was made or demanded. The Ottoman Empire was ruled by the constitutional monarchy between 1876-1878 and 1908-1918.
It was clearly declared that the will of the people will be dominant in the administration since the first years of the national struggle, which was initiated under the leadership of Mustafa Kemal Pasha after the First World War, which resulted in the collapse of the Ottoman Empire. The decision in the third article of the declaration published on 23 July 1919 after the Erzurum Congress was an expression of this understanding.
The Assembly, which will show the national will in concrete terms, convened in Ankara on April 23, 1920 under the name of "Grand National Assembly" after the occupation of Istanbul and the dissolution of the Mebusan Assembly. The president of the 390-person council, which was equipped with extraordinary powers, was also called the government and head of the state.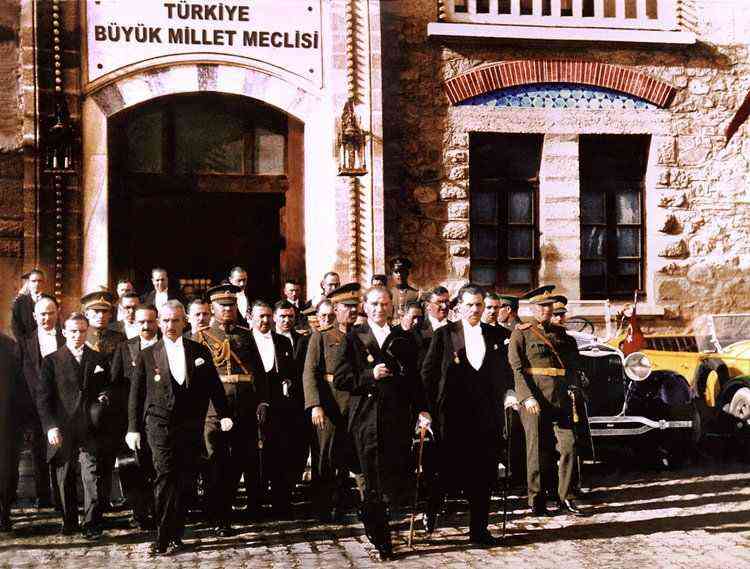 It was declared that the sovereignty belonged to the Turkish nation with the Turkish Constitution, which was adopted by the Assembly on January 20, 1921.
As a reaction against the Ottoman Government still considering itself the representative of the Turkish nation, Assembly abolished the Ottoman Government with the decision it took on November 1, 1922.
In the speech of Mustafa Kemal to Wieber Neue Freie Presse reporter on 22 September 1923, for the first time, the word of the "Republic" explicitly resonated in the country and abroad. In October 1923, İsmet Pasha and a group of deputies proposed a law to accept Ankara as the government center. Ankara became the capital of the state with the one-article law adopted in the Turkish Grand National Assembly on 13 October 1923. With this law, which ended the struggles that the state center would be Istanbul, a step was taken for the declaration of the Republic.
Mustafa Kemal Pasha, who hosted İsmet Pasha, Fethi Bey, Kazım Pasha, Kemalettin Sami Pasha, Halit Pasha, Rize MP Fuat and Afyon MP Ruşen Esref Bey as guests, met on the 28th of October at the Çankaya Mansion. and said to his guests, "Gentlemen, tomorrow we will declare the Republic". After the meal, Mustafa Kemal Pasha and İsmet Pasha prepared the draft law together.
After the adoption of the law, the presidential election was held. Ankara Deputy Gazi Mustafa Kemal was elected as head of the state unanimously by 158 members.
Turkey celebrates Republic Day on 29 October.