First of all, We are really glad and proud to be the members of Utopia Educators. Why? The straight forward answer is we have got so many things in these few months that we hadn't got before. Especially in terms of learning too much gigantic valuable things in a very less time.  Thanks to the Discord application who connected John Lambrechts (The Founder of UteD) and us at the moment when we needed it most.
Well, it's a long story. Check out our website and our articles where we introduced you briefly with our story. Anyway, in this short article we will just try to show you what we've got so far in the year of 2020.
Lovely and highly enthusiastic talented team members

We began our journey with a very few members. We were about 5 to 10 authors from 4-5 countries at the beginning. Our hands were pretty much raw to write and share anything online. Basically, our experiences were null about writing matter. Within a few days, our authors started communicating with each other on discord. And we gradually had been publishing articles and blogs. We have been helping everyone who is energetic to learn something new. We started wandering around learning many perspectives and sharing them by our own words on utopia. Primarily, we put up our focuses on no plagiarism, world perspectives which balances bias, true fact, true history for a goal of a thorough compendium of current educational topics.
Then we announced many times on social media if anyone is interested to join with us, he/she can join with us for the learning and earning party. We allow all the contributors who prove to be valid researchers and cutting edge minds. This is one of the greatest places on the internet, where students can learn and earn money at the same time for learning and sharing.
Promptly, we were having so many authors response from all around the world. Now we are a big family and constantly being bigger than before. Just to show you https://utopiaeducators.com/authors/, now we have more than 30 authors from 10-15 countries. We discuss everyday on discord and share our own learning perspectives to others. We collaborate with ideas and knowledge to build precise writings. We are happy to have this happy family working for the world.
Logo and Branding credit goes to a donor from Kurdish background.

Social Engagements  

We only had about 100-200 followers of our page at the time we just arrived. Were getting huge feedback from readers within a few weeks. And now we have about 18k followers on Facebook. The number of followers is increasing day by day thanks to our social media lead, Douaa Berkani. We are really glad to have so many active readers with us. And thank you all for your response on every post. Similarly, on twitter, instagram, hive where we have a lot of respectful followers. We are undoubtedly happy for all the persons who may stay with us.

We arranged Giveaway party for our readers that succeeded by a lottery to choice the winners. Then one of the guys from Bangladesh who luckily won the giveaway and we successfully exported our prizes for the winners from USA to there. Thanks for staying with us.

As a result of our rapid progress, multiple business companies wanted to join us on the website for promoting their products. We appreciate you for your invitations. We'll let you know if we are interested about it later.

With a lot of successful achievements, we've got some obstacles along the way that we've nicely overcome. One of the worst things was about the event of Hive. Please, check out articles to understand what it was : https://utopiaeducators.com/posts/hive-true-crime-msas-side/
Now, our steps about hive :  Completely powered down until the maligning and harassment stops.

Magazine

We already have created a super magazine named "The Utopia Times" which is gonna be released both on online version and hard copy soon.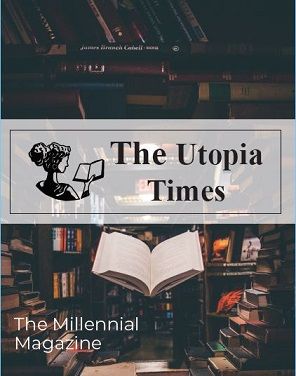 You are going to learn a lot interesting things in the magazine. We will keep constantly publishing our magazines one by one based on the bi-monthly wise top 5-10 writings. So, keep your eyes on it.

Tutorials and MCQ

We are currently approaching to create tutorial wise articles / videos regarding particular subjects. For instance, learning language, making money online, crypto trading, computer science etc....

And all these tutorials topics will carry MCQ to test. We can even make a reward system for learning. So, ROCK on guys.

Funds spent: (Written by John)
~$8,000+ invested into Utopia Educators and Advertisement; Plus trading losses on the ETH/DAI dy.dx market caused by an unknown flash crash on Christmas of Ethereum and then a boom afterwards, I had a wallet which I made on chain publicly as a honey pot test which showed my on chain failed margin trade. Later I noticed Hive vampires and vultures possibly talking about that. That would be an example (possibly) of targeted economic violence on the DAI market.
Future Funds:
Now the funds are about $6,000 for Utopia Educators until 2021 when we will have funds rivaling the biggest media conglomerations.

Well, there are a lot things to mention, but we are keeping it very short. To know us better, you got to browse the website for a while. You will surely understand who are we and what may we are doing. [Ad-free educational portal with numerous diverse authors worldwide where we share our knowledge. Unbiased fact based articles.]

While knowledge is free, most of the time, quality education is not. Usually, the education system we are familiar with focus on memorization. Yes, it is essential, but what equally important is creativity, the ability to think from a different perspective. At Utopia Educators, We try to focus on that part of education. We believe the distribution of knowledge through quality education should be free for everyone. That marked the beginning of our educational portal. We are striving to achieve our ultimate goal, a community where knowledge is equally distributed and creativity is practiced without restrictions. Welcome to the Utopian society.

Let's move forward with the new year 2021. Best of LUCK...................

STAY WITH,
UTOPIA EDUCATORS