Titumir was an anti-British revolutionary whose real name was Syed Mir Nisar Ali. He was born on January 27, 1782 in Haiderpur village of Baduria police station in 24 Parganas.(Now in the Indian state of West Bengal). His father's name is Syed Mir Hasan Ali and mother's name is Abida Rokeya Khatun.
Titumir was the favorite name of the Muslims in the Indian subcontinent. He was an uncompromising brave leader in the movement for the liberation of helpless people and the zaminders were afraid of him because of his skill. Titumir started his education in an elementary school in his village. He later studied at the local madrasa in his village. At the age of 18 he became a memorizer of the Qur'an and learned Hadith.[1] He was also proficient in Arabic, Persian and Bengali. He started learning physical exercises from Ustad Hafiz Neyaz Ullah. Due to his intense concentration and devotion, in a short time he became proficient in wrestling, lathi, sword and shield-sarki.
Titumir was associated with the Wahhabi movement. He went on a pilgrimage to Mecca in 1822 [2] and became a disciple of Syed Ahmed Shahid, a pioneer of Arab independence. He was inspired by Wahhabi doctrine from Arabia. In 1826, Titumir started a movement against the British indigo planters and zamindars with the poor peasants of his village[3]. Before Titumir, he worked as a lathiyal of zamindars and also gained fame as a wrestler.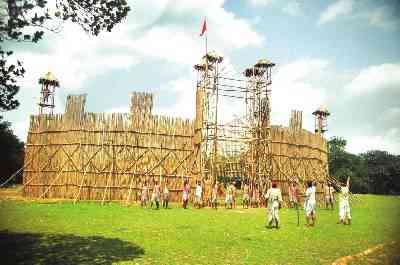 The clashes between the local zamindars and Titumir and his followers gradually escalated. So he used his wrestling skills to train his followers. At that time he had about 5,000 followers. Titumir declared independence against the British rule in the present twenty-four parganas, Nadia and the vast territory of Faridpur. The zamindar forces and the British forces were defeated several times by Titumir and his followers. The battle of Barasat is one of them. From Titumir's war experience, it is understood that proper preparation and proper army training are required to fight against the British. In self-defense of the army, he built a bastion fort at Narikelbaria Nayak near Calcutta. In history, this fort is famous as Narikelbaria Bamboo Fort. On 19 November 1831, British troops surrounded them.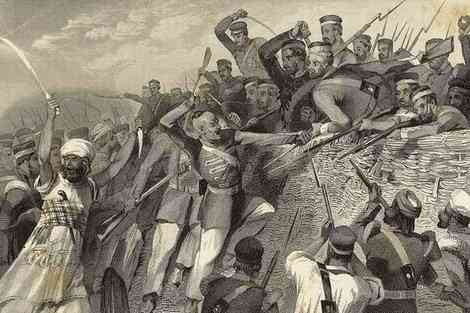 Titumir declared his independence, saying that after a while the British forces would attack our fort. And this war is not the last war. People will one day save the country only after getting inspiration from us. In this way, the country will one day become independent. British troops led by Colonel Harding attacked Titumir and his followers with heavy weapons. Titumir and his troops could not stand in front of the modern weapons of the British troops. On 19 November, Titumir was martyred along with forty others[4]. Golam Masum, the chief of his forces, was hanged. The bamboo fort was also demolished.
A despicable act by the England.
Sources:
[1]By the time he was 18 years of age, he had become a hafiz of the Qur'an and a scholar of the ....Titumir - Wiki
[2]In 1822, Titu Mir went on a pilgrimage to Mecca, the Haj enjoined upon all Muslims... Course Hero
[3]The Politicization of Islam: Reconstructing Identity, State, Faith, and ... - Kemal H. Karpat - Google Books
[4] After the storming of the fort by British soldiers, Titumir died of his wounds on... The Asian Age Online, Bangladesh