When you visit any country in the world for business or tourism, you are concerned with the quality of traditional food in that country
You know that every country in the world has its own customs and traditions, and a food pattern may be different from what you are used to.
For example, we all know that Italy is the homeland of pizza, while Japan is the homeland of sushi, but what are the most popular dishes in the Levant in the Middle East.
Today we are going to talk about a traditional dish that breaks the norms and concepts that people know are just food: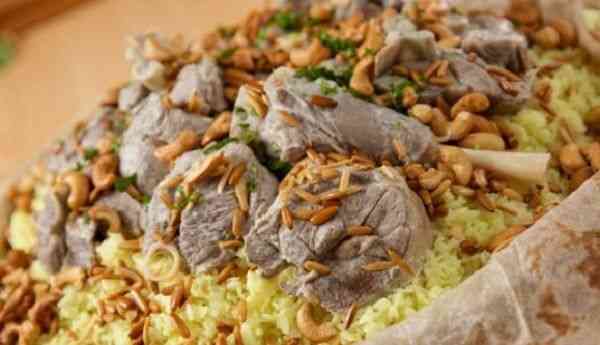 In the Middle East and in the Hashemite Kingdom of Jordan there is a traditional dish called Mansaf. Wherever Jordanians are, there is Mansaf.
On occasions and banquets, in mourning houses, and after the burial of the dead, Mansaf is presented to those present, at weddings, and at weddings
Mansaf in Jordan has become a social situation where Jordanians compete to present it to guests as a sign of hospitality. If you visit a Jordanian friend, you do not have to think much about what he will offer you, then you should know alone that he will provide you with the Mansaf
But now what is Mansaf is a plate of rice with mutton cooked with milk
Many disagree about the origin and history of Mansaf, but the most famous account is that Mansaf originated in the Moabite state in the city of Karak in southern Jordan thousands of years ago when a Moab king decided to fight the Jews and a great battle took place between them and he triumphed over them so the army ordered that they cook the meat inside the milk because this act is prohibited in Judaism.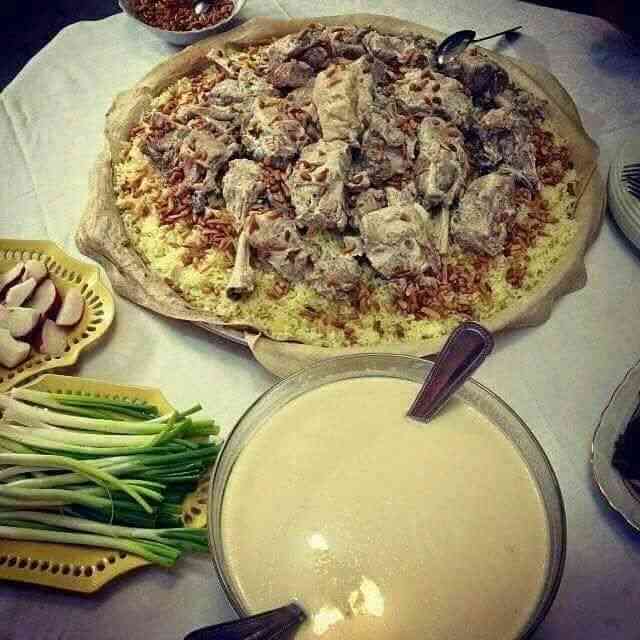 How to prepare Mansaf:
Despite its luxuriousness and high material cost, given the high prices of milk and meat, the components of the Mansaf meal are not that complicated.
The main idea of Mansaf is to use milk to cook meat, to which municipal ghee is added with rice, and served in a large dish at the bottom of which is a loaf of thin bread baked on the iron sheet.
Put on the rice and then the meat and decorate it with almonds, pine nuts and chopped parsley.
Literature mansaf
Because Mansaf is a dish that strengthens ties between the Jordanian people and increases the spirit of participation and participation in special events
Mansaf has morals that you must know in order to show your respect and appreciation to the owner of the house.
The first point is that it is not permissible to start eating before the owner of the house authorizes you, as he tells you to prefer food, then you can eat
The second point may be strange, but it is basic. The blaster is not eaten by a spoon, but is taken with the right hand only
The third point should not start with food until the largest attendees begin to eat, as a kind of respect and appreciation for the elderly
It is not permissible to eat except from before you and not from in front of others
If someone attends you his share of meat, you should eat it or keep it in front of you, but it is not permissible to return it to him.
Do not blow the food even if it is hot.
More importantly, it is not permissible to criticize Mansaf, as you criticize whoever prepared it, and not the food itself
If you would like to explore more food articles: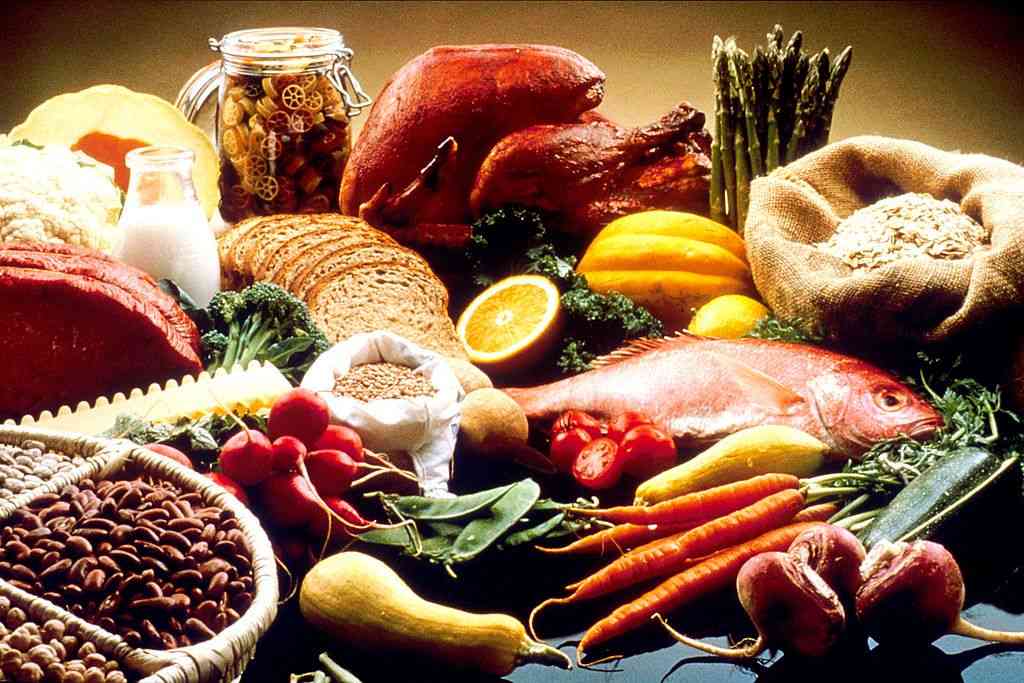 Mansaf manufacture and preparation with high craftsmanship is not limited to women only, it is imperative for men in Jordan to learn to cook this dish, where they gather at major events and wedding parties to prepare that meal, especially if this requires cooking large quantities and very large capacities that women cannot carry.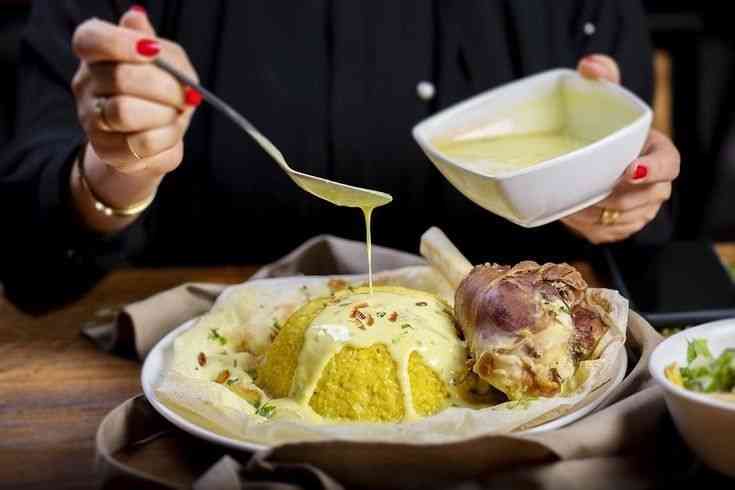 Will you find Mansaf in restaurants?
The answer is yes. There are thousands of popular restaurants in Jordan, Palestine and Syria that serve Mansaf as their main course.
With the advancement of the age and the spread of fast-food restaurants, Mansaf had to evolve into a fast and modern personal meal for young people on the street, so it was served with a box or plastic cup.
Mansaf is still in the lead, and is the meal loved by young and old. Jordanian students in Europe, America, Australia and Russia are keen to take Mansaf ingredients with them to these countries to cook that meal, and help them endure alienation and longing for the homeland.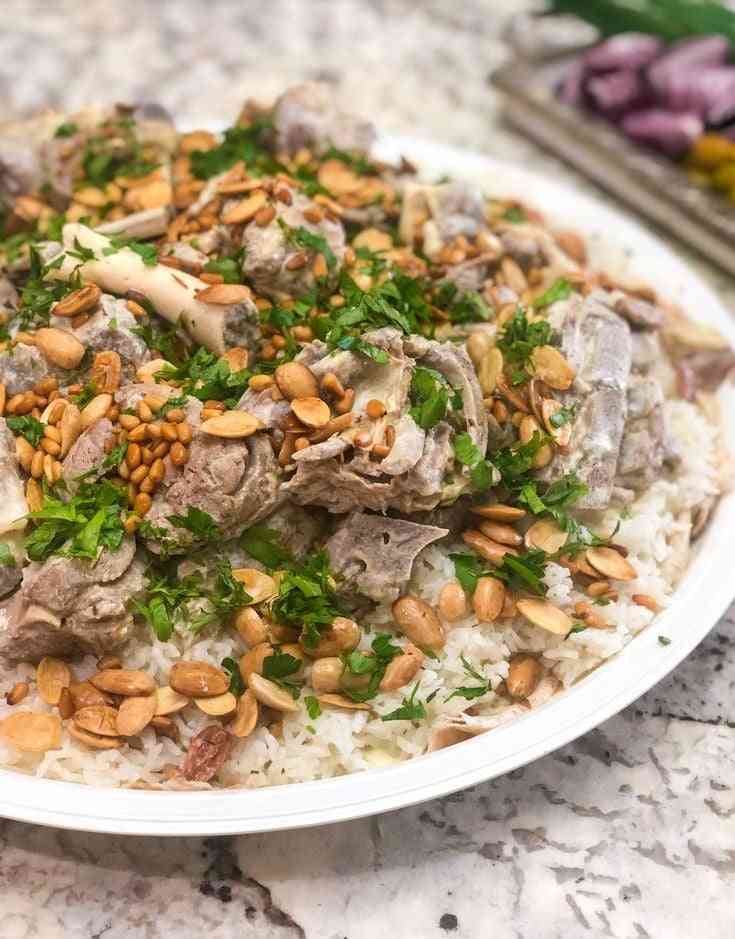 In the end, Mansaf appears to have succeeded in staying for thousands of years and leading all the traditional dishes in the Middle East.

Jordan is that poor and small country that relies heavily on tourism, as it is famous for having one of the seven wonders of the world, which is the city of Petra, as there is in Jordan the lowest spot on earth, the Dead Sea.

Mansaf had a reputation for competing with Petra and the Dead Sea
Now if you visit Jordan, will you try the mansaf meal?
Note : all the information contained in this article is considered from Jordanian folklore and not scientific information based on sources .