What could we better do on these stressful evenings, stuck at home, with no outdoor activities and human interactions, than getting wrapped in a woolen blanket, in a reading corner, with a cup of warm tea in hand, a sweet-smelling candle, plunged into a story transporting us to other worlds far from the cruel reality, and allowing us to relax and let the tensions evaporate.
This atmosphere described in the above, combining well-being and cocooning is called 'Hygge' according to the Danish culture.
If you didn't know already, Denmark has consistently been ranked as one of the happiest nations in the world, and apparently, hygge is so intrinsic to that. It is the cornerstone of the Danish lifestyle. Through 'The Little Book of Hygge' by Meik Wikings, the CEO of the happiness research institute in Copenhagen, we get to know all about this Hygge concept and how we can implement it in our daily lives.
I'm sure that by now, you must be craving to know what this term " hygge" is all about. As described in the book, hygge is the equivalent Danish word for let's say "consciously getting cozy and home as well as taking pleasure in the little simple things."
As you would've guessed by now, hygge is not just a word, but it's a feeling, an experience, and an atmosphere. It's that feeling of warmth, safety, comfort, friendship, love, and wellbeing that slows you down outside of all the stresses of everyday life.
It is also the reason why we love some seasons of the year, such as winter and autumn, and new years because as it gets colder and darker outside, people will use the weather to their advantage and use those long nights to have cozy nights in with family and friends.
This is a concept that sees happiness in the light of a candle, in the softness of a blanket, or in the warmth of a cup of tea. To get a closer look at the concept, let me introduce to you a ten-point hygge action plan to achieving everyday happiness or the hygge manifesto as cited in the book: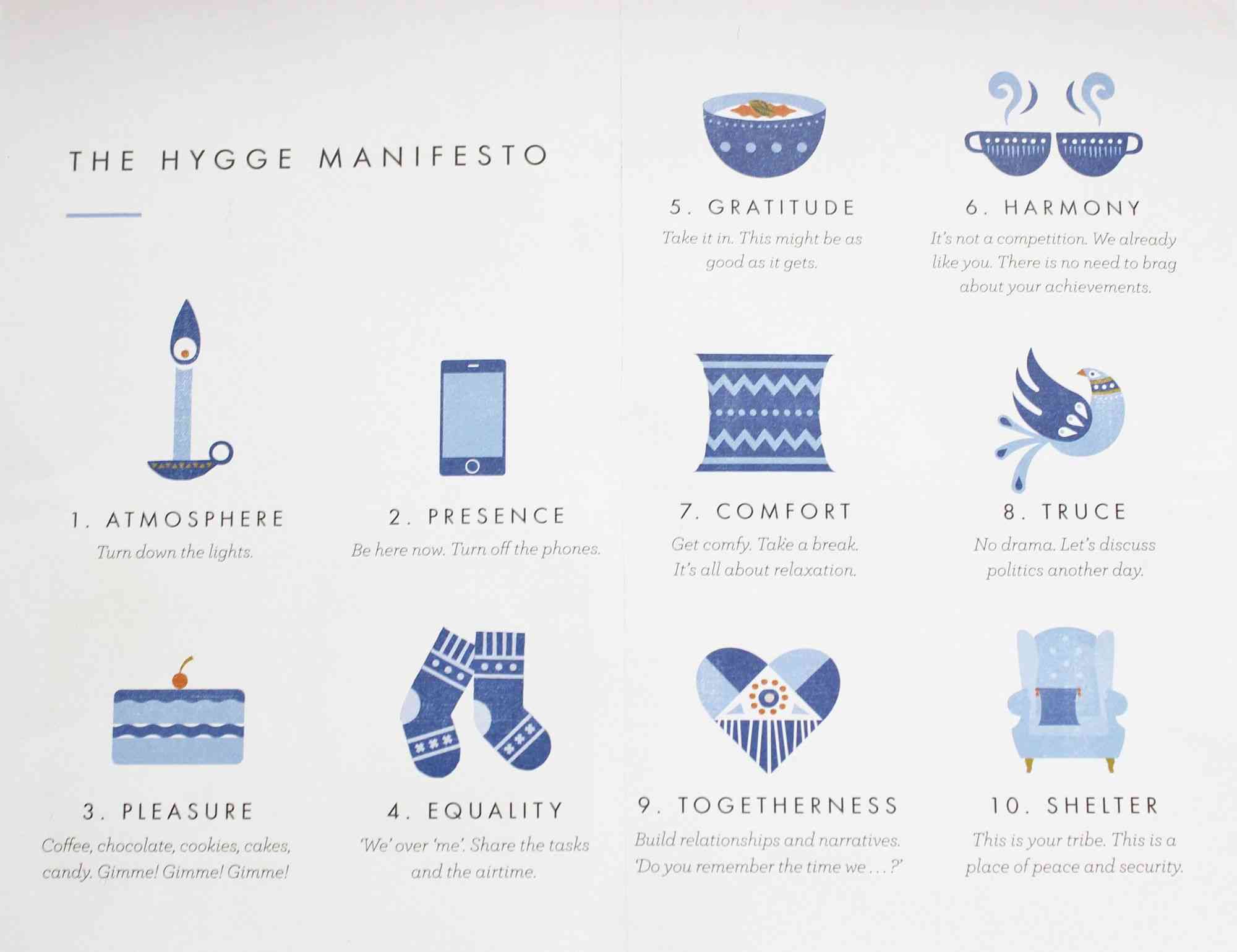 Atmosphere: Turn down the lights
Presence: Be here now. Turn off the phones.
Pleasure: Coffee, chocolate, cookies, candy, Gimme! Gimme! Gimme!
Equality: "we" over "me". Share the tasks and the airtime.
Gratitude: Take it in. This is as good as it gets.
Harmony: It is not a competition. We already like you. You don't need to brag about your own achievements.
Comfort: Get comfy. Take a break. It's all about relaxation.
Truce: No drama. Let's discuss politics another day.
Togetherness: Build relationships and narratives. "Do you remember the time we...?"
Shelter: This is your tribe. This is a place of peace and security.
See? You don't need to spend any kind of money on expensive pieces of furniture. You don't have to live in a fancy mansion with 3 personal assistants. You don't have to be the richest in the world to be happy.
Living Hygge is something very personal. There's no mandatory rule to follow, just a bunch of suggestions that could make your life happier, cozier, and safer.
Living Hygge can be seen as taking time for ourselves, seeing the happiness around us, taking pleasure in the littlest things of everyday life, living in the present and appreciating it, without feeling the weight of the past or always thinking about the future. It's focusing on what we have instead of what we don't.
Sources:
The Little Book of Hygge: Danish Secrets to Happy Living. Book by Meik Wiking
---
Subscribe to our newsletter to stay updated