DogeCoin whitepaper: https://box.utopiaeducators.com/cloud/index.php/s/LNWdsKLzMMBwsa5
Dogecoin is a coin that was started December 6, 2013, 7 years from this articles publishing. Dogecoin is based a lot of the concepts of bitcoin and litecoin, but in a ridiculous way as to purposely look ridiculous and less valued in 2013 times, especially starting in 2015.
However, this year is when the story takes a turn and you notice the GameStop rebellion against a aggregate 130% short position on a Gaming retailer. DogeCoin wasn't talked about as much but it had an even more meteoric rise, although in USD penny terms, but greater percentage gain. Rapidly.
An interesting story and factor of Dogecoin is that the network is programmed to release coins 5 years ago, leading to huge inflation.
Early 2015 (approximately a year and a half after release) there will be approximately 100,000,000,000 coins. Each subsequent block will grant 10,000 coins to encourage miners to continue to secure the network and make up for lost wallets on hard drives/phones/lost encryption passwords/etc. - Dogecoin Whitepaper
This method of releasing fewer and fewer coins as the network matures and gets more difficult to run provides a huge incentive to use it as a currency.
Due to its security and continued mining hash rate which prevents against transactions from another user double spending. The most secure networks are Bitcoin, Litecoin, and Ethereum in the issues of double spending and maturity.
The Original Authors of Dogecoin are Billy Markus and Jackson Palmer.
"Markus is the programmer who modified an existing litecoin wallet, creating dogecoin-qt. He leads a less public life than Palmer, going by the pseudonym Shibetoshi Nakamoto on Twitter." - Dogecoin Fandom Wiki
So dogecoin really isn't a huge story other than the Memefication and the dedication by the original team and their growing mining community and developers in a product since.
The story is the adoption of sound currencies. Even though this may not be AS rare or useful as Bitcoin and Ethereum, there is still uses in everyday life like micro payments, for example.
Digital currencies are great; once we have every country adopting them trade will become a level playing field, as opposed to Central Bank Currency Trades on markets the Public doesn't even have visibility on in Real Time without paying up huge fees.
They argue incomplete transparency helps them avoid attacks from other Central Banks. Well we now have them giving cash to populations instead of reducing taxes and regulations. The Central Banks have scorched the earth's poor and middle class.
Digital Currencies open source and transparent are the future. And doge coin price as you can see has hilariously been skyrocketed. I don't think it's going away, and Bitcoin will surely benefit from this Hilarious #wallstreetbets movement regarding heavily shorted instruments and Securities.
I believe as the public realized they can compete with the central banks and their branches in the trading department we will have restoration of Enormous Wealth and Markets. Doge coin is a great syble of a woken population. It has basically become the penny stock bitcoin.
I envision a future where wallets can pay your bitcoin dust in the cheapest and fastest routed network. For right now that appears to still be The Bitcoin Lightning Network.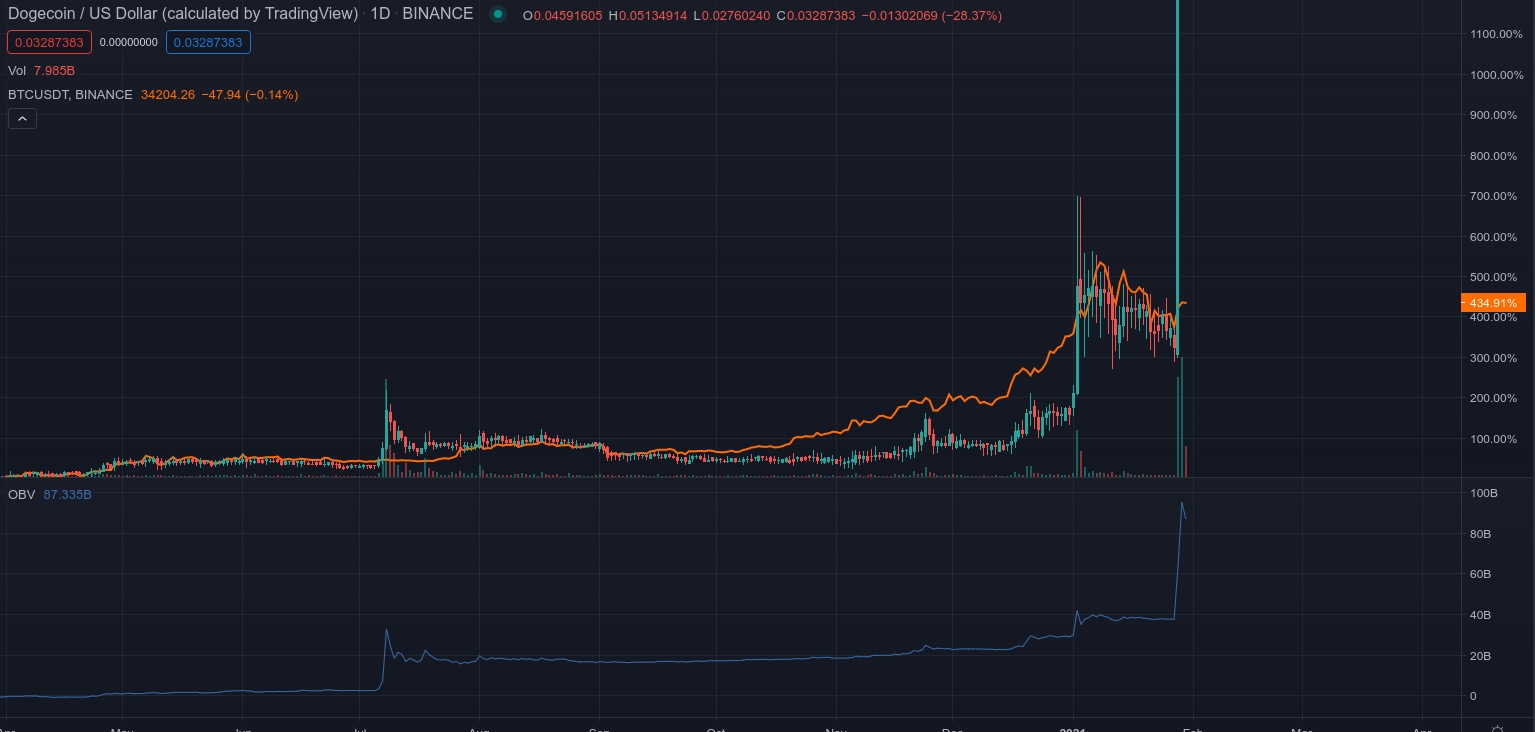 Dogecoin development code:
I hope you enjoyed this article.
Regards,
John