Former President of Bosnia and Herzegovina, philosopher and Muslim political activist from Bosnia and Herzegovina, and author of many well-known books.
His family name dates back to the days of the Ottoman presence in Bosnia, where the syllable "Bik" in his family name came from the Turkish language. As for Ali Izzat Peugeot Fitch, it means Ali bin Ezzat Bey (Ali Ibn Izzat), and all these names date back to the Ottoman history that gained her this pronunciation. (Article continues below)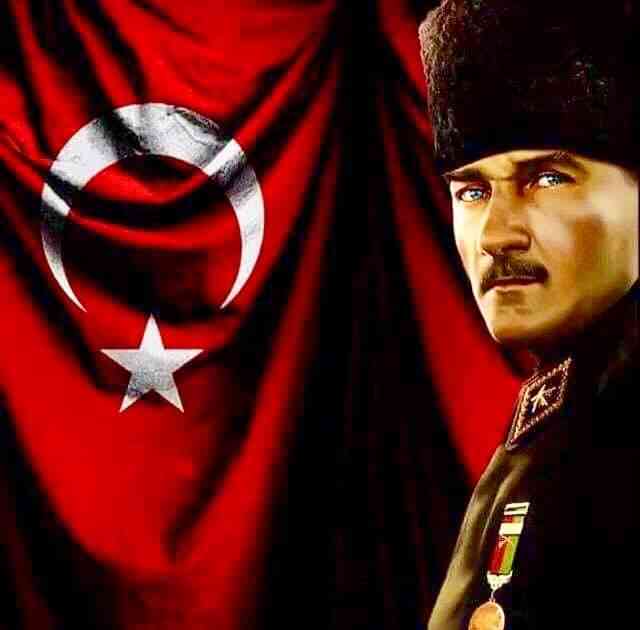 His education
President Ali Ezzat studied in Sarajevo schools and then graduated from the University of Sarajevo from the Faculty of Law, then worked for 25 years as a legal advisor to be satisfied after that from working as a legal man and directed towards research and writing. [1]
Ali Ezzat and the Islamic awareness beginning
Ali Ezzat's life began at a time when Bosnia and Herzegovina was under the rule of the Yugoslav kingdom, which was under the rule of a liberal family. Therefore, the Islamic curriculum was not included in the school plans in Bosnia.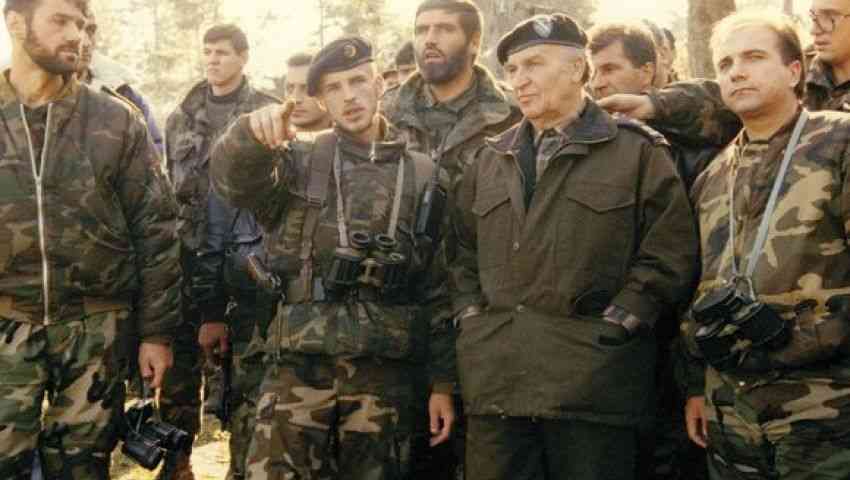 But the conscious young man was not satisfied with the situation, and he believed in the need to consolidate moderate Islamic principles among the members of the Bosnian Muslim people.
This prompted him and his colleagues to create a school club called Mladi Muslimani, or Muslim Youth. This club grew interested in Islamic discussions along with many other things, such as charitable and social work, and this association was not only restricted to males but also established a women's association.
These associations were very active, especially in World War II, when they helped refugees and orphans and relieved people from the pain of war. This association was influenced by the ideas of Bosnian students coming from Al-Azhar in Egypt.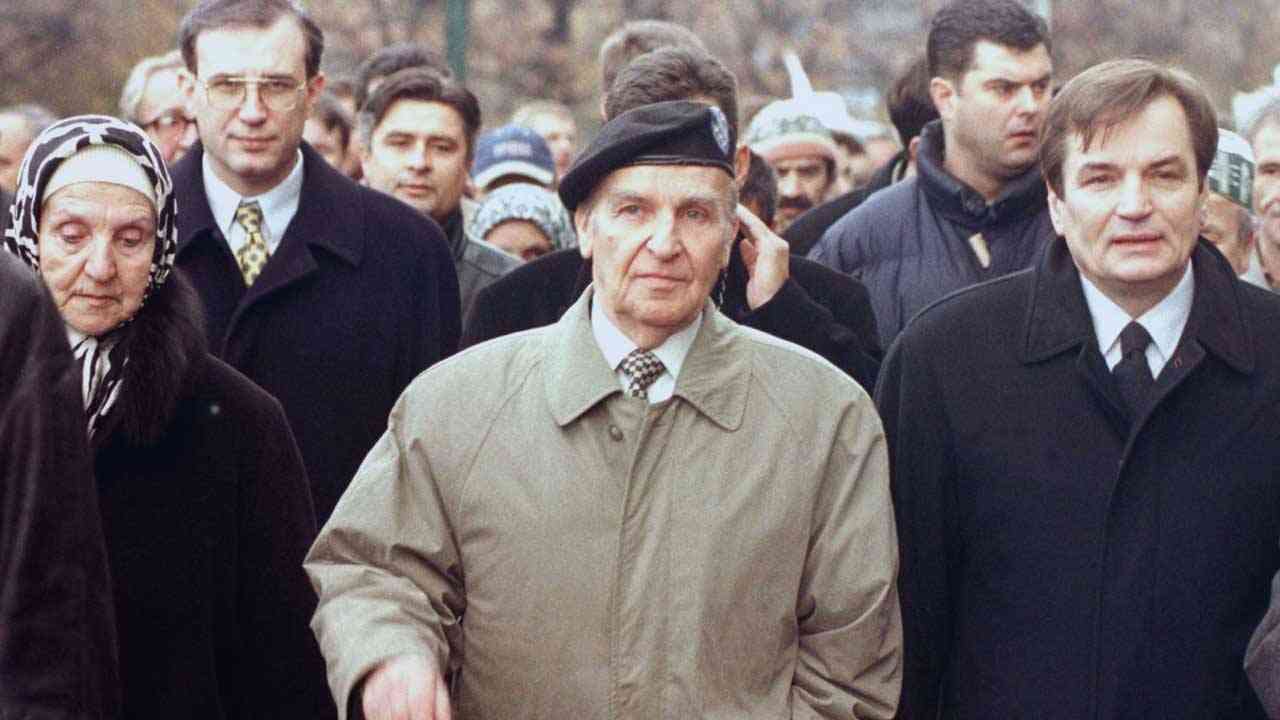 His entry to prison
As a result of his struggle with the Communists, Yugoslavs, and Serbs, as these conflicts were centered around political struggles rejecting the occupation, Ali Ezzat was imprisoned several times. The Yugoslavs imprisoned him in 1946 for three years, which was due to his opposition to the regime of Joseph Broz Tito, a politician of Croatian origin.
Also, he and 12 of his colleagues were tried in 1983 on charges of promoting Islamic principles that were considered crimes in the eyes of the regime.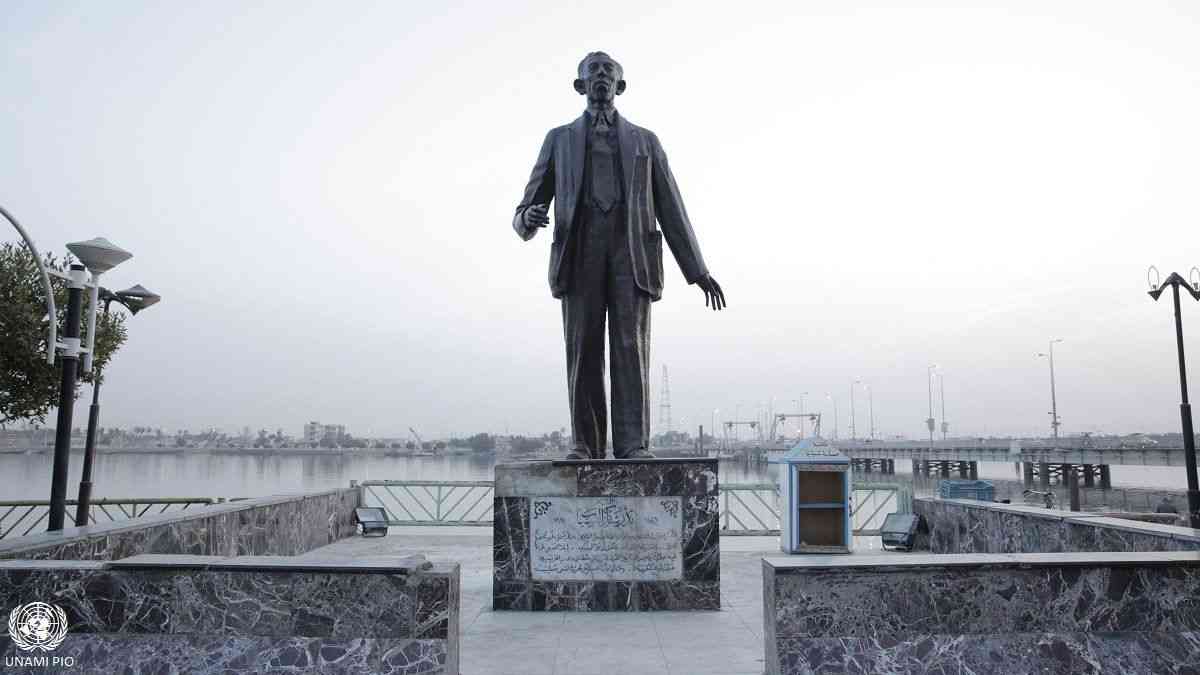 Ali Ezzat was also tried for organizing a visit to the Islamic Conference in Iran, and Izetbegovic and those with him were sentenced to fourteen years imprisonment. Still, in the following May of the year of the ruling, and due to pressure from international organizations that saw the verdict as merely supporting communism, the Bosnian Supreme Court recognized that the accusations did not contain criminal acts and reduced the sentence to twelve years. After five years in prison, his health had suffered severe complications.
His arrival to the presidency of Bosnia and the achievement of independence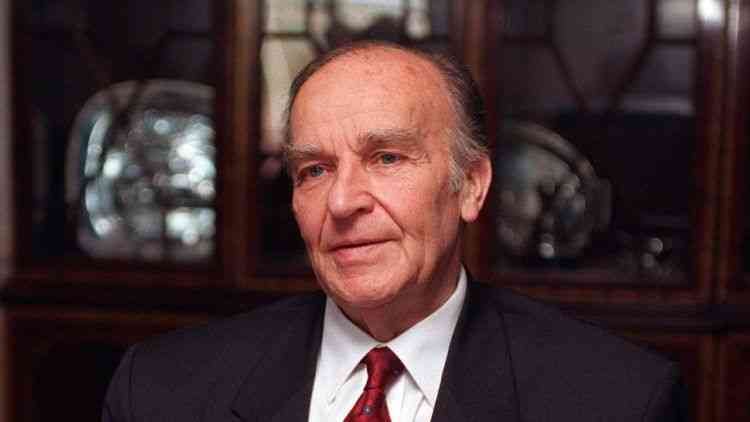 Ali Ezzat participated at the beginning of 1990 in the founding of the National Action Party, which became one of the largest parties in Bosnia later, and reached the leadership of the party in 1990 in May, then called for a referendum among the Bosnians with the aim of independence from Yugoslavia. 99.4% and the percentage of those participating in the referendum was close to 70%.
Ali Ezzat declared the country's independence in March 1992. The world recognized Bosnia and Herzegovina on May 22, 1992, and it became a member of the United Nations.
Ali Ezzat was appointed President of the Republic on March 3, 1992, and he officially remained in this position at least until October 5, 1996.
Bosnian war
Because democracy is usually colluding with the stronger side, and because the world recognized Bosnia without protecting its independence, the Serbian forces supported by Yugoslavia attacked Bosnia and Herzegovina, declaring a war of ethnic cleansing throughout the country. Atrocities were committed against the indigenous population of non-Serbs, especially Muslims, who were murdered. Hundreds of thousands established secret mass graves and raped thousands of Bosnian Muslim women.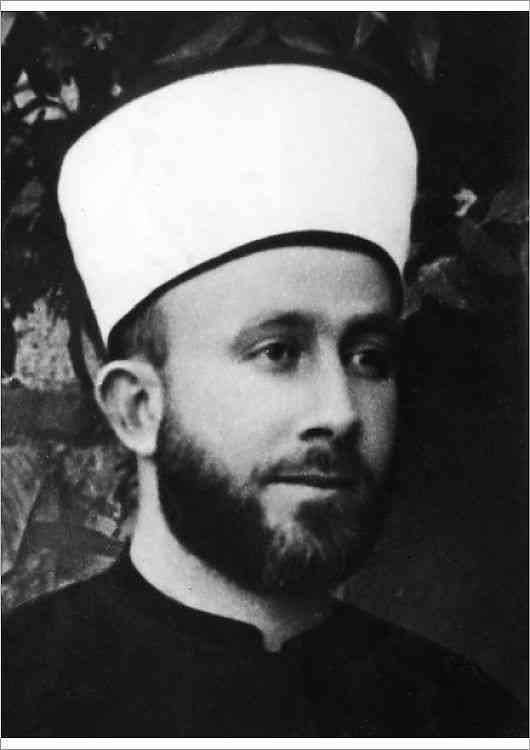 From his simple home as a president's house, he was not concerned with appearances and luxury as much as freedom concerned him for the people of Bosnia and from his humble office. Ali Ezzat kept fighting and planning for war in line with the Bosnian people's struggle to march against the operations of eradication and ethnic cleansing.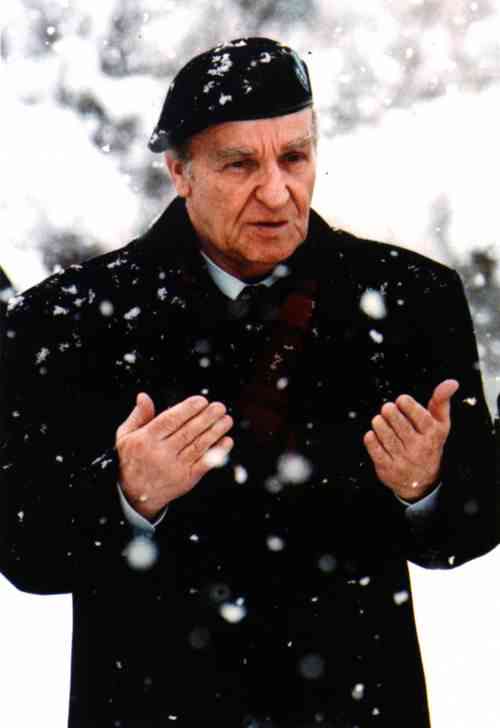 In 1994, after hundreds of thousands of deaths and much destruction and fear, NATO finally intervened, as its planes launched raids on the Bosnian Serbs until they were forced to withdraw from Sarajevo in September 1995, leaving behind many dark memories that are hard to forget.
The war ended after the Dayton Peace Agreement was signed in the United States on November 21, 1995.[2]
His most famous books [4]
Ali Ezzat's books are of an intellectual and political nature based on his vision and understanding of the universality of Islam's message and teachings, in which he called for tolerance and coexistence between different religions and races. Among the most famous of these books include:
Islam between East and West
Obstacles to the Islamic renaissance
The Islamic statement
My escape to freedom:
He recorded his observations in prison during the period 1983 and 1988
Some of his famous sayings are
Man is not by what he does but by what he wants, by what he passionately desires
Only he who asks gets the answer
An animal is dangerous when it is hungry, but a person is dangerous when it is full.
Any manipulation of people, even if it is in their interest, is inhuman. Thinking on their behalf or liberating them from their responsibilities and obligations is also inhuman.
Honors and awards[3]
King Faisal International Prize for Service to Islam,1994.
Mawlana (Arabic word meaning our prince) Jalaluddin Rumi International Prize for Service to Islam in Turkey.
International Democracy Defense Award from the American Center for Defense of Democracies and Freedoms.
The "Islamic Personality" was chosen for the Dubai International Prize for the Holy Quran,2005.
The State of Qatar awarded him the Medal of Independence.
On the fourth anniversary of his death in 2007, the Sarajevo regional government opened a museum named after Izetbegovic.
His military uniform, the hat that he wore during the war, his jeans with a jacket, glasses, his watch, his bag, his pen and his shoes were all kept in two small towers in the Kovaci district meters away from his mausoleum, as a memorial of his struggle.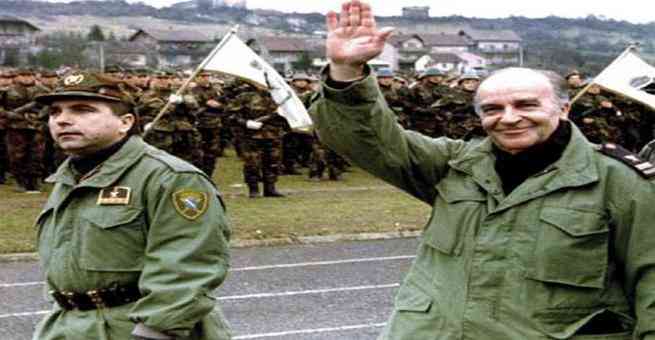 His death
Ali Izetbegovic died on October 19, 2003, in a Sarajevo hospital. More than two hundred thousand Bosnians walked his funeral and were buried in the martyrs' cemetery, where the graves of Bosnian soldiers were killed in the Bosnian war between 1992 and 1995. The cause of death was cardiovascular disease.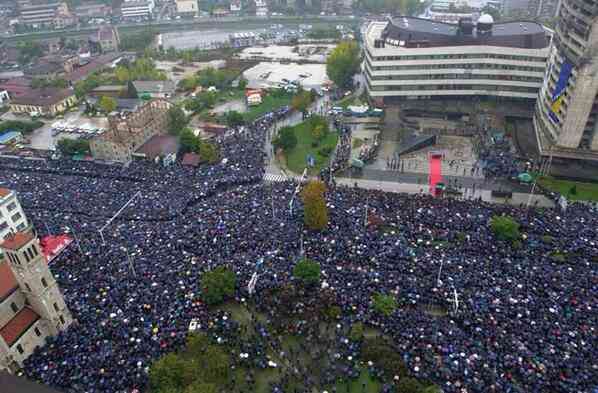 Recommended reading: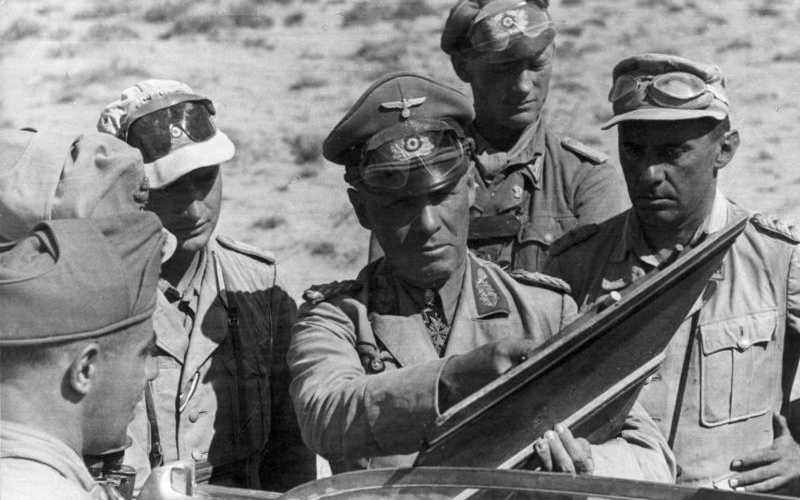 Sources:
[1]Ali Izzat Izetbegovic's diary book
Author: Ali Izetbegovic
https://foulabook.com/ar/book/%D8%AA%D8%AD%D9%85%D9%8A%D9%84-%D9%85%D8%B0%D9%83%D8%B1%D8%A7%D8%AA-%D8%B9%D9%84%D9%8A-%D8%B9%D8%B2%D8%AA-%D8%A8%D9%8A%D8%AC%D9%88%D9%81%D9%8A%D8%AA%D8%B4-pdf
[2]Article titled: Shocking Testimonies of Muslim Women Rape During the Balkan War
Source: Euronews
https://arabic.euronews.com/2018/06/04/hotel-hospital-where-war-crimes-occurred-remain-open-in-bosnia-herzegovina
also:
A documentary film entitled: The Camp. One of the chapters of the Bosnian tragedy
Source: Production of Al-Jazeera documentary channel
https://www.youtube.com/watch?v=_0Se0oZJ9ew
[3]An article entitled: Izetbegovic ... Leadership in the Paths of Thought, War and Peace
Source: Al-Hazaera Channel
https://www.aljazeera.net/encyclopedia/icons/2016/4/3/%D8%A8%D9%8A%D8%BA%D9%88%D9%81%D9%8A%D8%AA%D8%B4-%D8%A7%D9%84%D8%B2%D8%B9%D8%A7%D9%85%D8%A9-%D9%81%D9%8A-%D8%AF%D8%B1%D9%88%D8%A8-%D8%A7%D9%84%D9%81%D9%83%D8%B1-%D9%88%D8%A7%D9%84%D8%AD%D8%B1%D8%A8
[4]Ali Ezzat Books
https://www.noor-book.com/%D9%83%D8%AA%D8%A8-%D8%B9%D9%84%D9%8A-%D8%B9%D8%B2%D8%AA-%D8%A8%D9%8A%D8%AC%D9%88%D9%81%D9%8A%D8%AA%D8%B4-pdf