The Mediterranean diet is one of the three most recommended diets by nutritionists.
Not only is it very ecofriendly due to the low consumption of red meat, but it also has a way of including healthy eating habits with the traditional flavors and cooking methods of the Mediterranean. "My favorite part of the Mediterranean way of eating is that it is about a lifestyle," says Rachel Berman, author of the Mediterranean Diet for Dummies.
What is the Mediterranean diet?
Mediterranean diet is a plant-based diet that prioritizes heart-healthy foods, such as vegetables, grains, and olive oil. It is one of the three recommended foods in the 2015-2020 US Dietary Guidelines, due to its association with a reduction in all-cause mortality. According to Elena Paravantes-Hargitt, a registered dietitian nutritionist, writer, and consultant specializing in the Greek Mediterranean Diet and the founder of OliveTomato: "It's essentially a peasant diet. People would eat whatever they had growing in their gardens, along with some dairy and olive oil".
Why the Mediterranean diet?
According to The American Heart Associationand the American Diabetes Association, the Mediterranean diet helps to reduce the risk of cardiovascular disease and diabetes type 2.
Due to the increasing interest in the Mediterranean diet starting from 1960, a study shows that there are fewer deaths by heart disease and diabetes in Mediterranean countries than in Northern Europe and the United States, despite the high consumption of olive oil. That is because olive oil and whole grains contain monosaturated fat, which has been found to lower total cholesterol and low-density lipoprotein ("bad" or LDL) cholesterol levels.  In addition to Omega 3, that is found in fish, which helps to decrease triglycerides, reducing blood clotting, and decreasing the risk of heart failure.
What are the components of the Mediterranean diet?
There is not one single definition of the Mediterranean diet, and it is not limited by specific foods. Still, it is typically high in whole grains, fruits, vegetables, herbs and olive oil.
It is mainly about:
The daily consumption of fruits, vegetables, seeds, grains, nuts and olive oil.
The weekly consumption of fish, eggs and poultry.
The moderate consumption of dairy products and wine.
The limited consumption of red meat.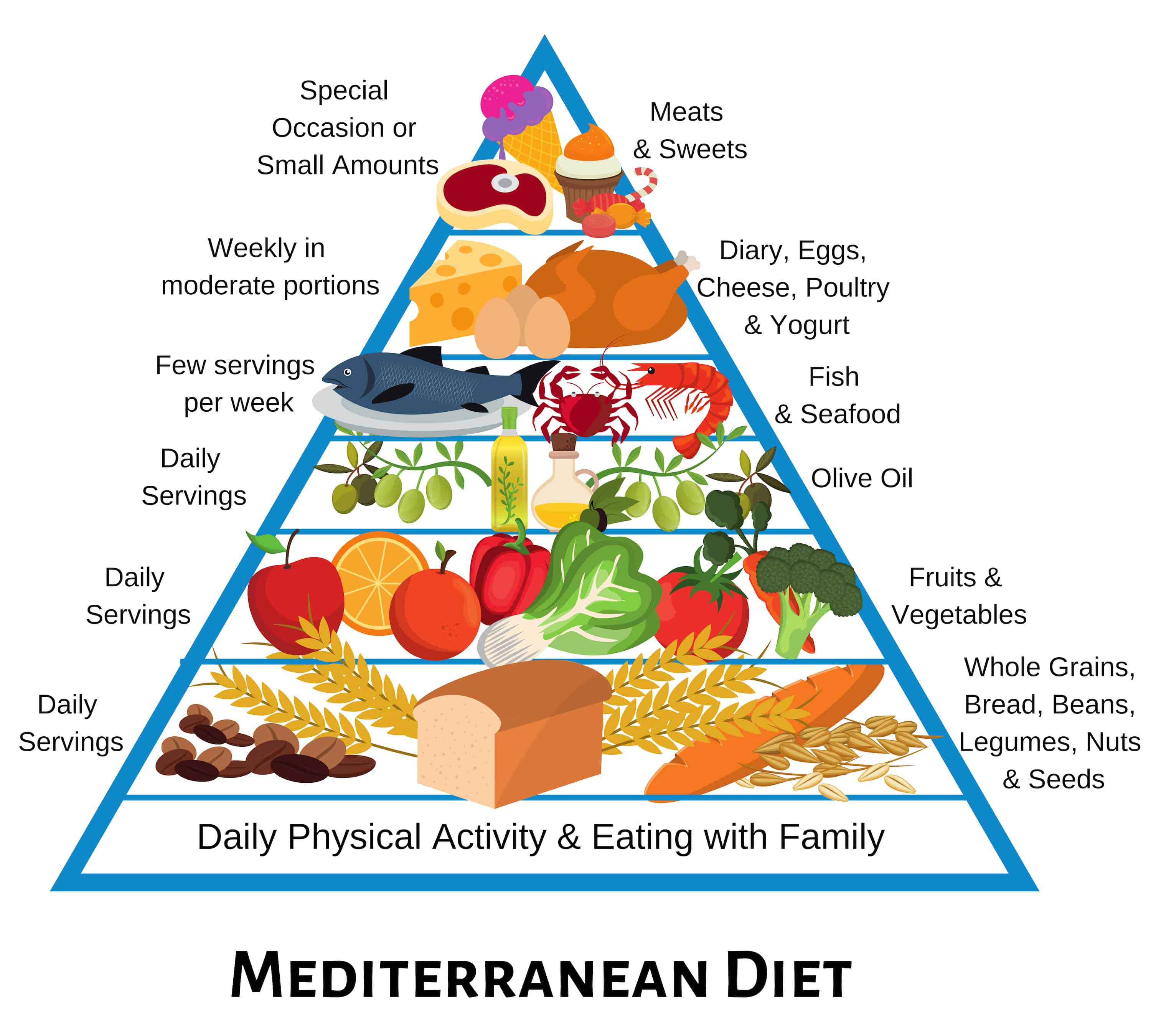 Sharing meals with family and friends and being physically active during the day is just as important as the food you consume in the Mediterranean diet.
The Mediterranean diet is a fun, delicious and healthy way of eating. It's more than just a diet; it's a lifestyle and a state of being.
Thanks !! We are always there to help you learning many new things.
Utopia Educators.