Is Eric Schmidt the reason Google is going against Donald John Trump?
Eric Schmidt became involved at Google in 2001.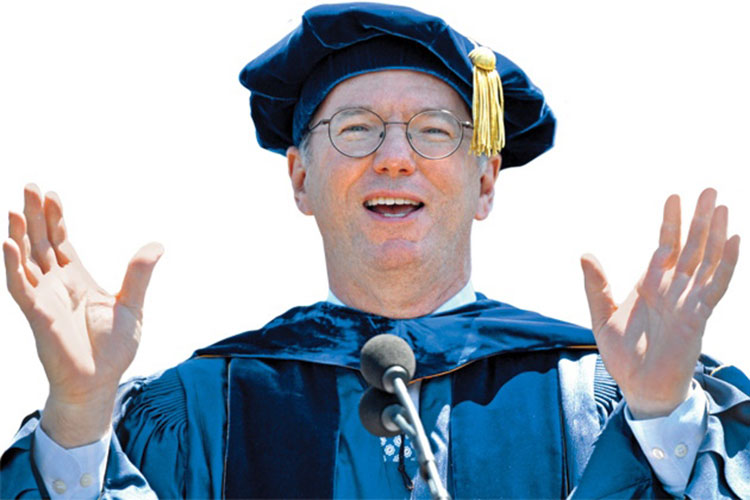 "He is a member of the Bilderberg Group and has attended the annual Bilderberg conferences every year since 2007 (except for 2009).[127][128][129][130] He also has a listed membership with the Trilateral Commission.[131] He is a member of the International Advisory Board at the Blavatnik School of Government, University of Oxford.[132]"
In March 2016 it was announced that Eric Schmidt would chair a new advisory board for the Department of Defense,[46] titled the Defense Innovation Advisory Board.[47] The advisory board serves as a forum connecting mainstays in the technology sector with those in the Pentagon.[48]
To avoid potential conflicts of interest within the role, where Schmidt retained his role as technical adviser to Alphabet, and where Google's bidding for the multi-million dollar Pentagon cloud contract, the Joint Enterprise Defense Infrastructure, or JEDI, was ongoing: Schmidt screened emails and other communications, stating, ""There's a rule: I'm not allowed to be briefed" about Google or Alphabet business as it relates to the Defense Department".[49]
His collegue is Jared Andrew Cohen:
Jared Andrew Cohen (born November 24, 1981) is an American businessman currently serving as the CEO of Jigsaw (formerly Google Ideas)[1] and an Adjunct Senior Fellow at the Council on Foreign Relations.[2] Previously, he served as a member of the Secretary of State's Policy Planning Staff and as an advisor to Condoleezza Rice and later Hillary Clinton.
Following his internship and graduation, Cohen served as a member of the Secretary of State's Policy Planning Staff from 2006 to 2010. He was 24 years of age. His service began after his internship under former U.S. Secretary of State Condoleezza Rice,[17] during the Bush Administration.
Burning of Videos
Google began burning videos similar to the Nazis (Evil Ashkenazis).
In 2014, he had a cameo appearance in the film Dumb and Dumber To, starring Jim Carrey and Jeff Daniels. He also had a cameo appearance in the HBO show Silicon Valley.[135]
This explains all of it, do your own research.
Guillotine Schmidt? Or will you stand down?
This is the land of the 1st Amendment. It's not the end of the world.
I love you Sergey Brin. I understand why you are in private now.
Why did Google's motto change?
Plan to be forgotten.
Source:
English Wikipedia